Your garden can change the world. Everyone who has the privilege of owning a home has a duty to help create and preserve habitat.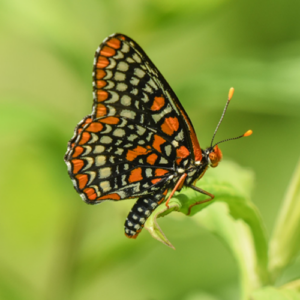 A global crisis with a grass-roots solution.
The problems are well-known. Our environment is undergoing profound and dangerous changes including dramatic declines in insect and bird populations due in large part to reductions in habitat. The impacts of these declines are more than just cosmetic. Instead, they represent a very real threat to the entire ecosystem on which humans depend.
The good news: there are steps we can take in our own gardens that can make a difference.
The bad news: we need to do it now.
To help, Backyard Bounty is encouraging everyone to become a supporter of and active participant in the Homegrown National Park, an effort to increase the habitat and native plantings on privately-held land. This includes the suburban and urban yards of Backyard Bounty's clients. Doug Tallamy and Michelle Alfandari have started this effort to galvanize action by individual property owners to create habitat on a large-scale through small-scale projects in our own gardens.
Tallamy is an acknowledged expert in habitat who spoke at the recent Montgomery County Green Matters symposium. For years, Doug has been educating people about the dangers associated with loss of habitat.
Since the vast majority of the land east of the Rockies is in private hands, private land is where we can make a difference. Indeed, it's the only place large enough to make a meaningful impact. Public lands just don't represent a large enough slice of the pie to make a real difference.
WHAT EACH OF US CAN DO
Thankfully, the to-do list for creating more habitat is pretty straight-forward.
Text and photos excerpted from Tallamy's book Nature's Best Hope
SMALL EFFORTS BY MANY PEOPLE: 83% of land in the U.S. is privately owned. If we planted native on 50% of private land we would restore biodiversity…and we can do it starting NOW. We greatly encourage municipalities and public places to participate, but right NOW, each of us can take an ACTION. Let's start planting.
Doug's outline of 10 steps to make HOMEGROWN NATIONAL PARK a successful reality:
1. SHRINK THE LAWN
Every square foot dedicated to lawn is a square foot that is degrading local ecosystems. Turfgrass offers no ecological benefits but nice to walk on.  Doug suggests that we reduce our lawns by half for walkways and paths that define beds, tree groves.
2. REMOVE INVASIVE SPECIES
Invasive plants are ecological tumors that spread unchecked into our local ecosystems, castrating the ecosystem's ability to function if every property owner removed the most egregious invasives the goal of ridding the U.S. of these troublemakers, or at least reducing their seed rain to manageable levels, would be largely realized.
3. PLANT KEYSTONE GENERA
Doug's research at the University of Delaware has shown that a few genera of native plants, or keystone genera, form the backbone of local ecosystems, particularly in terms of producing the food that fuels insects.
Landscapes that do not contain one or more species from keystone genera will have failed food webs, even if the diversity of other plants is very high.
SOME KEYSTONE PLANTS
Woody Plants
Native Oaks (e.g. White Oaks) are the superstars!
Native Cherries
Native Willows
Native Birches
Cottonwoods
Elms
Top herbaceous (plants that do not have woody stems) producers are:
Goldenrods
Asters
Sunflowers
4. BE GENEROUS WITH YOUR PLANTINGS
To realize the ecological potential of our landscapes, most of us have to increase the abundance and diversity of our plantings. If you have one tree in your yard, consider adding two more. The idea is to plant groves of trees at the same density at which they occur naturally in a forest.
5. PLANT FOR SPECIALIST POLLINATORS
Because so many of our native bee species specialize on particular plant groups when gathering pollen for their larvae, it is essential that we meet their needs in our pollinator gardens. Some of the best plants for specialists in most parts of the country include:
Perennial Sunflowers
Various Goldenrods
Native Willows
Asters
Blueberries
6.  NETWORK WITH NEIGHBORS
As you "light yourself up" planting native, it is likely your neighbors will light up too. Whatever your size property, adding your neighbor's yard begins the process of building ecological networks.
7. BUILD A CONSERVATION HARDSCAPE (you don't have to be a gardener!)
Each year millions of toads, frogs, and other small creatures become trapped in our window wells where they slowly starve to death.  Installing cheap window well covers can reduce these needless deaths to zero.
Use motion sensor security lights that light up only when an intruder enters your yard.  Blazing security lights kill thousands of moths.
Set your mower height no lower than 3 inches. This will give you healthier greener grass that requires less watering but also mows safely over a box turtle!  Try not to mow in the evening when many nocturnal species leave their hiding places.
Install a bubbler. Small water features with gentle gurgling sounds are irresistible to migrating and resident birds.
8.  CREATE CATERPILLAR PUPATION SITES UNDER YOUR TREES
More than 90% of the caterpillars that develop on plants drop to the ground and pupate within the duff on the ground or within chambers they form underground.  It is best to replace lawn under trees with well-planted beds with groundcover appropriate you your area. It's easy, you can leave leaf litter under your trees, rocks and old tree stumps.
9. DO NOT SPRAY OR FERTILIZE
Insecticides and herbicides are antithetical to the goals of HOMEGROWN NATIONAL PARK.  Less evident is that fertilizers are also unnecessary.  Creating soils rich in organic matter is entirely sufficient for healthy plants.
10. EDUCATE YOUR NEIGHBORHOOD CIVIC ASSOCIATION
Many homeowners believe they cannot use more native plants in their landscape because of rules developed and enforced by their township, civic association or homeowner association.   These rules are likely dated as they were created when we didn't know then what we do now. HOMEGROWN NATIONAL PARK™ includes starting new habits in how we landscape.
While Backyard Bounty has long followed much of this advice, we are re-doubling our efforts to make an impact. For example:
We have added many of our client's native plant gardens to the Homegrown map
We will be encouraging clients to plant more oak trees in all gardens
All Backyard Bounty-designed gardens will be at least 75% native plants
Taking these ten simple steps, and encouraging our friends and neighbors to do the same, can have a profound impact. To paraphrase a movie uncle, "With the great power of home ownership comes great responsibility".
We can't wait for anyone else. It's up to us.